What is a home stager?
A home stager is a professional who will come into your home and prepare it to appeal to the largest number of buyers.
Together, the stager and I chose paint colors, wood stains, and reasonably priced carpeting for the downstairs. Beyond that, we made the bedroom that previously housed a pool table into a lovely office overlooking the new, beautiful garden. Within two weeks the home was ready to put on the market. The fiancée walked into the house and said, "Why are we selling this house? It's gorgeous!" I then reminded her they had already bought a new one.
Obviously, this is really extreme and not necessarily in everyone's budget. Sometimes the best thing to do is have a stager come in and advise you how to move the furniture. The first thing they'll ask you to do is store about 50% of your things. The idea is to make the house as open and warm for buyers as possible. If all your photos and personal items are there, they're not going to imagine themselves living in the home. Now, I promise you, as soon as the stager leaves, you're going to want to move your furniture back the "right way." It's important to keep in mind that you live in your home differently than you sell one.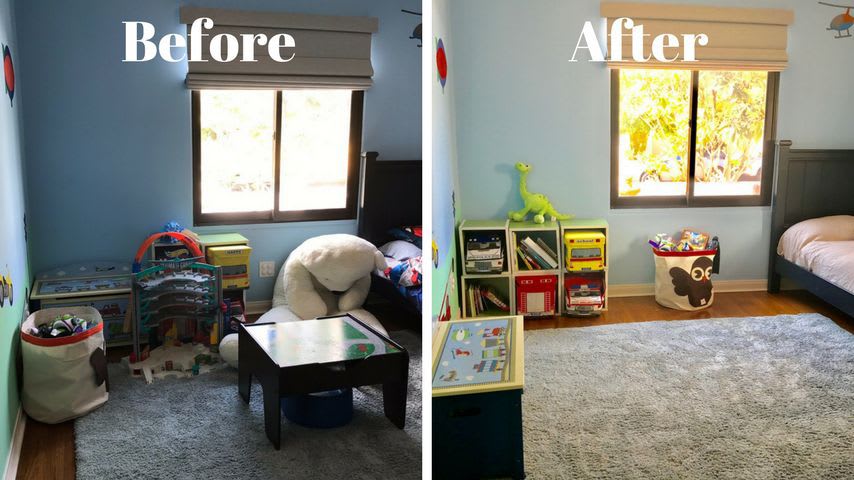 Sometimes staging just means putting away the clutter and rearranging a few items. A potential buyer may not need this room for a little boy and can see the proportions and size of the room a lot better without all the toys everywhere.

If you've already moved out and you don't want to do all that extra stuff we talked about, sometimes it helps to have the stager just bring in the furniture. So you haven't had to redo the floors and you haven't necessarily had to paint and redo the garden. Maybe it's just about not having those rooms empty. Buyers inherently have difficulty imagining where the furniture will go. They might think an empty living room doesn't look large enough for their sofa, or an empty bedroom may not look large enough for their king-size bed and dresser.

Staging can be quite an investment, but the reality is that staging sells homes. It sells them quickly, and it sells them for the most amount of money possible.

So what happened to the house I was telling you about? It sold in just less than thirty days, for more than the asking price, and the seller giddily told me he put the biggest check he had ever seen in his bank account.

Staging works. Making the house look nice, organized, and furnished if it's empty can make a big difference in the sale price and its time on the market. The extreme on either end of the spectrum may not work for you, but you can find that happy medium that does work.